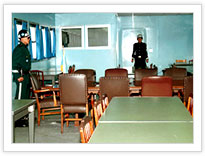 - All foreigners who have a passport can apply up to 3 day in advance.

USFK Regulation these countries are designated to the Panmunjom tour.
Albania, Algeria, Armenia, Azerbaijan, Bahrain, Bangladesh, Belarus, Bolivia, Bosnia, Burma, Egypt, Georgia, Hong Kong, India, Indonesia, Jordan, Kazakhstan, Kuwait, Kyrgyzstan, Lebanon, Macau, Malaysia, Morocco, Nigeria, Oman, Palestinian Authority, China, Qatar, Russia, Saudi Arabia, Singapore, Somalia, Taiwan, Tajikistan, Tunisia, Turkmenistan, Ukraine, United Arab Emirates, Uzbekistan, Venezuela, Vietnam, Yemen, Afghanistan, Cuba, Iran, Iraq, Libya, Pakistan, Sudan, Syria, Israel, Moldova
- Above these countries can apply to the Panmunjom tour, we need
your color scanned passport (only the first page with photo), as
attached and send us by email at least a 4 days prior the tour day.